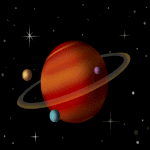 Greethings and welcome to a
different space .
No it's not Deep space nine , Planet of the apes
nor is it Return of the jedi.
It's
My

Saturn
space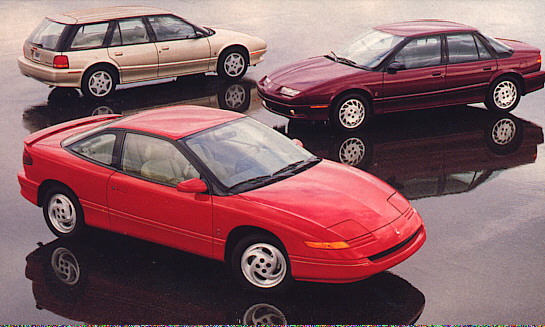 The Different kind of company
with the different kind of car.

My story goes like this .....
Once upon a time, there was this young couple who had to travel quit some distance each and every day in order to get to work.
These people were nothing out of the ordinary, had a healthy
child and a three bedroom house and two old " rust buckets".
A "88" Mustang with 149,000 Km & a "87" Ranger with 180,000Km
At this kind of mileage you can just imagine what kind of shape they were in. They both traveled an average 50-70 Km everyday.
Up until a few years ago and many $$$ of repairs the rust had beaten them.
We searched and searched, tried and tried many vehicles
in hope to find such a vehicle that would meet our needs.
Until the day the wife came home saying all these good things she had heard about Saturn. So we jumped into one of our old clunckers
and headed to the dealers.
From that day on we are Saturn believers.
We ended up buying a "94" SL Gold in color we named
Golden Child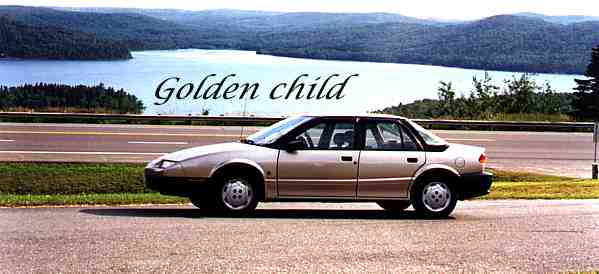 This picture "the only one" was taken while we were vacation in Québec, she's a beauty isn't she !!!
WeWe've had no complaints with our Saturn and we even talked three of our friends into buying Saturn. Now where I work we now have five Saturn's parked there daily, what a beautiful sight .
Long live Saturn .....

Use the View -> Source function on your browser to see the code.


Click here for Saturnalia
visit my other page ..